PHIL GLOVER
PRESIDENT
COUNCIL OF PRISON LOCALS 33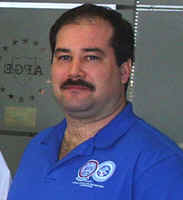 ---
STATEMENT OF PHILIP W. GLOVER ON BEHALF OF THE COUNCIL OF PRISON LOCALS, AFGE, AFL-CIO TO THE HOUSE JUDICIARY COMMITTEE, SUBCOMMITTEE ON CRIME
Mr. Chairman and members of the subcommittee, my name is Philip W. Glover, President, of the Council of Prison Locals, American Federation of Government Employees, AFL-CIO. I am the elected representative of all Federal Prison workers nationwide. We have 97 Local Unions representing 100 facilities in the Federal Prison System. Our members include, Correctional Officers, Case Workers, Food Service Workers, Mechanical Services and Federal Prison Industries Employees. These are law abiding, taxpaying citizens working the toughest law enforcement beat in America.

These employees of the Federal Government deserve the full support of the Congress in order to go home everyday to their families and friends. This issue is a big factor in that ability.

I want to first thank the committee for allowing me to share prison workers views on this issue. Over the years it has become increasingly important for inmates to work. With minimum mandatory sentences, elimination of parole and three strikes and your in laws filling prisons at record levels it must be understood how work programs help in managing the population. Most prisons in the Federal sector are overcrowded between 30 percent to sometimes 70 percent over capacity. Management of the population is handled in a number of ways. Education, vocation, recreation and work programs all combine to assist us behind the fences and walls.

Federal Prison Industries has grown, since 1934, to become one of our most valued programs. Twenty-five percent of the eligible inmate population works in FPI. This keeps inmates productive for seven and a half hours per day in large numbers, sometimes more hours should overtime occur. Additionally, inmates working in FPI have an incentive for staying clear of problems. They are less likely to have incident reports or disciplinary problems which would eliminate them from the FPI work program.

I have testified to this before in front of the sub-committee. So, I would like to take this opportunity and discuss a few other issues.

During several hearings on this matter FPI has been accused of moving in and taking contracts. I certainly don=t know about all of that I am a Correctional Officer by trade and a voluntary union official. But at one hearing in particular, it was stated that a missile container contract was taken by FPI which put a company out of business. Interestingly enough, I decided to check this out for myself and found that FPI doesn't=t make missile containers not now, not ever. In a 13.5 billion dollar furniture market, FPI sold 230,000 million dollars in product. Only 1.7 percent of the total market. This seems a very small amount in the big picture of things.

I say this because the members of this committee should be cautious. My organization has agreed that changes may be needed to FPI. I have always urged caution. Even in supporting the McCollum bill last year, we stated that this should be a slow process. To change sixty years of industry programs with our huge populations, Congress should go slow.

If you look at what=s commonly referred to as the Prison Industries Enhancement program (P.I.E.), it doesn't=t keep inmates in the states working at even half the level as the Federal Program. This directly correlates, I believe, into a much more safe prison system for everyone.

For those on the committee that are considered supporters of law enforcement, I say to you, this is a big law enforcement issue. Over the past decade, laws have been stiffened, police have been added to the streets, prosecutors and judges have little choice on prosecuting and sending people to prison for longer and longer sentences.

We, Corrections Professional=s are the one=s generally forgotten in that mix. While we are in the process of bringing 28 new federal medium and high security prisons on line over the next three to five years, our budget this year has been basically flat lined by the administration. And now, Congress again consider=s changes to Federal Prison Industries Amandatory source@ a program which generated only 566 million dollars in sales last year in a 9 trillion dollar economy. This paid salaries for employees, inmate salaries, and paid out 72 percent to small and minority owned business in local communities for goods and services.

Every time this issue is discussed, people come out to eliminate mandatory source and to have us compete. Last year, when Congressman McCollum suggested we compete everywhere, it was decided that wasn=t a good idea either. And so here we are again. What is the compromise?

When you consider that we have 150,000 inmates in the system and rising to 190,000 we must find a way to keep inmates productive. The Federal Prison system is run well by the staff. However, we must have tools. Should the move to eliminate mandatory source be successful without replacing it with a working system, it will be disastrous for prison employees. We can not simply warehouse people.

It seems to us that public policy sometimes has to out weigh the needs of business. In this case, the government has decided to incarcerate offenders at very high rates. The Correctional Worker didn't=t make that decision. Law=s were generated to punish people. What we request from this committee and the Congress as a whole are the tool=s necessary to keep the population managed. Cutting mandatory source with no clear cut alternative is not the way to go about it.

I thank you for your time and would be happy to answer any questions that I can.

ATTENTION EVERYONE

I am pleased to announce that Mr. Bryan Lowry, President of Local 922, Forrest City, AK has been elected to fill the unexpired term of Paul Rissler, SCRVP.

The Council welcomes Bryan and looks forward to working on the South Central

=s issues in the upcoming year together.

SCRVP Lowry

=s contact information has been updated on the Council=s E-board page.

COUNCIL OF PRISON LOCALS

UPDATE, DECEMBER 11, 2000

During the week of November 27, 2000, we attended policy discussions in Washington, DC. The two main policies negotiated were the Counselor=s Training Guide and the Affirmative Action Policy. The Counselor=s Training guide was brought into line with previous negotiations on the Unit Management Manual. The negotiations on this were completed. We still have numerous proposals on Affirmative Action Policy which will be worked on in January. My thanks goes out to Pam Clampit, Bastrop, Joy Tatum, Bastrop, Pat Showalter, Ft. Worth, Barry Ormond, Petersburg, Aubrey Francis, Marion and the E-board members for their work on these issues.

I met with Director Kathleen Hawk Sawyer during the week. We discussed several issues including the Financial and Management Re-engineering groups, indictments of BOP staff including working on a procedure within the Bureau of requesting assistance, and some Warden=s not following the Master Agreement, especially over bargaining issues.

A meeting was held with National President, Harnage over the recent acquittals of officers at Leavenworth. He is requesting the Justice Department to pay the legal bills of these staff as they were denied representation in the beginning.

Pre-Post shift checks have been distributed. On November 30, 2000 the checks were postmarked out to the employees. We have had some reports of problems with addresses, categories for payment and various other things. Should a bargaining unit employee have a problem. They need to contact their Local President with the issue, they need proper documentation regarding their bargaining unit status for the time period, and they need to get their correct address either to the Local Union or Central Office. After a short amount of time, the Council will be meeting with management to correct problems or address errors in the payout.

Please remember this case involves 34,000 employees. It will take some time to correct identified problems.

I have had some people complain about having to pay the taxes and that they should have received more money. The money is a settlement of overtime pay. Taxes must be paid. Regarding the amount, the Council felt we did our best in securing a fair amount per year for the grievance. Merry Christmas.

The E-board will be meeting the week of December 18th to discuss the upcoming Master Agreement negotiations. Additionally, we will be discussing courses of action for the employees not being represented by the Justice Department, Professional Liability insurance, and various other issues which need looked at.

In closing, I want to say thank you to Charlie Bohannon and Paul Rissler. As you may or may not know, each of them have resigned from their Regional Vice President positions. Each did so for their own personal reasons. I believe both men served the Council well. We will miss both of them and again thank them for their service. Ron Rubottom, President, Local 2441, Morgantown was selected by the Presidents of the MAR to complete Charlie=s term and we are in the process of selecting Paul=s replacement now.

November 20, 2000

UPDATE ON OFFICER LOUIS PEPE

The latest information that I have received on Officer Pepe at MCC New York is that Officer Pepe has been brought out of the induced coma. He is still sedated but he recognizes people. He has feeling on both sides of his body. His speech is still slurred but it is not known if that is from the injury or from the sedation . Of course his rehabilitation will be a long and slow process but as more information is available I will update you.

For those who wish to send cards or letters you may send them to the following address . The hospital WILL NOT accept cards letters flowers or gifts.

Metropolitan Correctional Center

150 Park Row

New York, New York 10007

Attn: Robert Brooks Executive Assistant

Mr. Brooks will forward all mail to Officer Pepe's Family

Louis's parents are Franklin and Margaret Pepe his brother in law and sister are Marcello and Eileen Trotta

ANYONE WISHING TO CONTRIBUTE TO THE FAMILY FUND OR THE LEGAL DEFENSE FUND FOR THE SIX UNION MEMBERS RECENTLY INDICTED MAY DO SO AT THE FOLLOWING:

AFGE LOCAL 1301 FAMILY FUND

ACCT# 1109859

C/O PUEBLO BANK AND TRUST

1401 MAIN STREET

CANNON CITY, COLORADO 81212

AFGE LOCAL 1301 LEGAL DEFENSE FUND

ACCT# 1109992

C/O PUEBLO BANK AND TRUST

1401 MAIN STREET

CANNON CITY, COLORADO 81212

THESE STAFF MEMBERS HAVE BEEN SUSPENDED WITHOUT PAY AND BENEFITS. THEY ARE BEING DENIED DUE PROCESS ARE BEING PUNISHED WITHOUT EVER HAVING THE CHANCE TO DEFEND THEMSELVES. THE UNION HAS VOTED TO AN OPEN MEETING OF THE MEMBERSHIP TO SUPPORT THESE MEMBERS AND ENSURE THAT THEY ARE REPRESENTED PROPERLY IN ALL ADMINISTRATIVE MATTERS RELATING TO EMPLOYMENT. THESE ARE OUR CO-WORKERS WHO HAVE NEVER BEEN CHARGED OF ANY WRONG DOING BY OUR OWN EMPLOYER AND ONLY NOW ACCUSED BY AN OUTSIDE PARTY. IT IS NOT THE UNIONS PLACE NOR YOUR PLACE AS AN INDIVIDUAL TO JUDGE, IT IS HOWEVER THE UNIONS PLACE TO SUPPORT OUR MEMBERS AND WE ASK THAT YOU DO THAT WITH US.

FOR ELECTRONIC TRANSFERS USE THE FOLLOWING ROUTING

# 107000068 PLUS THE ACCOUNT #

To: President's and members

From: Phil Glover, Council President

Thank you very much to all those who sent cards, letters and flowers after the recent death of my grandmother.

My Mother and Family were very thankful that all of you took the time and effort to send them to us.

I also appreciate the support sent to me since my other grandmother has fallen ill. Thank you all so much for the respect and caring showed to us.

Phil Glover

President's update

Council of Prison Locals

It has been a fast paced couple of weeks. I hope this latest update keeps you current on issues being worked on by the Council.
1. Last week, I attended a Council Presidents meeting with the three National Officers of AFGE and 13 Council Presidents. We discussed the AFGE budget for the upcoming year including priorities. We also talked about representation. It was agreed to have all the Bargaining Council contracts reviewed at AFGE, look at some of the best language, and put together "boiler plate" language and back up material. This will help new locals and Council E-boards put together good federal sector agreements and provide a safety net against bad provisions. It was also decided to have three meetings per year with the Council's, the National Officers and the NEC.
Andrea Brooks, the new Women's and Fair Practices Department head, asked for each Council to appoint a coordinator who she could work with on issues. I have put this out to the E-board for their advice and ideas on this.
2. Military Leave, Mark Sewak, President, Local 3951, was appointed by me to follow up on an issue one of Loretto's stewards, Jeff Forlina, had brought to our attention. This issue was the DOJ policy violating USERRA law on annual leave usage of our reservists. Mark met with two attorney's at AFGE National and it appears AFGE will be deciding on whether to file a Federal Lawsuit on the issue. It could, if successful, return some annual leave days to National Guard and Reservists.
3. I had meetings with Assistant Attorney General of the Civil Rights Division, Bill Lan Lee and with Deputy Attorney General, Eric Holder over the DOJ not representing our employees. Both meetings were positive and hopefully will provide some ground work on changing the process that we currently have for asking for representation, criteria for deciding when to represent, appeal procedures and hopefully better payment of outside counsel. The meeting with Mr. Lee was attended by Joe Henderson, Attorney, Fair Practices and Women's Department AFGE and the meeting with Mr. Holder was attended and set up by National President Harnage and General Counsel, Mark Roth.
4. Pre-Post shift, as I have repeatedly sent out, we are receiving more calls, letters and e-mails than can be kept up with. Local's must put out that people at their facilities need to address them with problems or questions. Then the local's can contact the Council. We have got to manage this information in order to satisfy everyone.
If employees are placed in what they feel is the wrong band, they need to do a couple of things. They need to get copies of their SF-50's showing whether they were in the bargaining unit or not for the period of the settlement. They can then forward that information through their Locals to the Regional Vice President's for action. Employee's must also check and see if they were assigned outside of an institution for the period. I have been called/e-mailed by people who worked in Regional Offices, CCM's and now the training centers during the period. There was no keyline for those individuals. The settlement was for "institutional bargaining unit positions".
5. We just returned from the Informational Picket at Florence, CO. The Leadership from the three locals out there did an outstanding job putting it together. Employee's supported the locals on the line in a great turnout. There was good press coverage with a radio station doing live spots every half hour, the Denver Post and other newspapers were there and two of the three television stations did live coverage.
We again had locals from around the country come to support the event along with the Council E-board. AFGE National Secretary Treasurer, Jim Davis and National Vice President, 11th District, Gerald Swanke, both came out to support the locals.
Issues covered were the Non-Representation of employees, vacating of posts, poor treatment of line staff at the ADX and FCI, and other various things. It was a very good event and hopefully will wake up some people at higher levels in the BOP and DOJ that staff are really getting sick of this treatment. Additionally, it is time that BOP higher management listen to us about problems at these facilities and take actions to correct it.
I will be in Beckley, WV next week for another joint Labor Relations training this time for the Mid-Atlantic Region. If there are any questions or comments please contact someone from the Council E-board.
ORGANIZING IN THE FIELD
During the week of September 18th, Western Regional Vice President,
Manny Borquez, was in Arizona working with 12th District National Vice President, Eugene Hudson.
The two of them visited each of the Arizona Prison Locals and while there signed up 24 new members. This took place in conjunction with an AFGE metro initiative from the 12th District.
FCI Pheonix, Local 3954 gained 11 new members
FCI Tucson, Local 3955, gained 9 new members
FCI Safford, Local 2313, who is at the high eighty's for membership gained 4 new members.
The District and Council shared some of the costs and work resulting in a successful trip. Manny Borquez stated that now was the time for these drives with AFGE successfully eliminating the .5 percent tax on Federal Employee Benefits and the completion of the Pre-Post Settlement.
LEGISLATIVE UPDATE
As the Congress and Senate try to finish their business and get out of
Washington, D.C. to campaign for re-election, we must be vigilent. This is the time when bad things happen to prison employees.

This is when "no frill's" legislation get's put into appropriations bills, when prison's get privatized in the dead of night, and when our retirement or health care get's attacked.

For instance, on the General Government, Treasury appropriations, Senator Grassley (R) Iowa, has added an amendment to immediately terminate a law enforcement officer should they be convicted of a felony. That sounds simple enough, something we should all support. However, did you know that simply not filing your tax form by April 15 each year is technically a felony? And who know's how many other small items are?

These are the types of things that hurt us, remember the "Lautenberg Amendment"? We almost had 72 people fired because of it.

Those of you who are active in legislative work need to assist the Council by keeping an eye on Commerce, State, Justice Appropriations in the House and Senate. Also watch that committee in the Senate. Keep track of the Government Reform committee's and also the Treasury, Postal, General Government Appropriations bills. Additionally, if the Congress again can't get all the appropriations bills done (as has been the case many times) they will roll it into one huge bill. This will be our most dangerous situation in that all kinds of items will be added to get it passed so campaigning can begin.

There are some good things to report:

1. It appears any changes to UNICOR will not occur this year. Both H.R. 2558 and H.R. 2551 are stalled in the House.

2. Manny Borquez, WRVP, has received assistance from Senator Ron Wyden (D) Oregon, to investigate why we are not being represented by the Justice Department when inmates make allegations against our members.

3. AFGE's (including the Council) hard work resulted in a repeal, two years early, of a .5 percent tax on Federal Employee's retirement for debt reduction.

4. The Judiciary's Subcommittee on Crime, agreed to look at the non-representation issues of our members when I get them the information from the locals who were affected. I have requested that information through the Vice Presidents.

COUNCIL OF PRISON LOCALS

CONVENTION

During the week and weekend from August 16-20, 2000, we met in an

non-election year convention. Training was conducted by the General Counsel of the Federal Labor Relations Authority. In addition, training was held on grievances and other matters of the Master Agreement.

The convention came to order on Saturday with 73 local union's out of 91 being represented. The delegates received information on Council activity for the year and were able to ask questions. Many questions were asked and answered on the Pre-Post issue, so please see your local representatives on these issues.

The main thrust of the convention was to adopt a new budget for the upcoming year. The delegates voted for a 50 cent Dues increase to establish a legal defense fund to help the membership with work related legal issues. Again, for those discussion's please contact your local delegates. No structure changes were made although there was a great deal of discussion regarding the growth of our Council and it's future growth to 128 locals in the next three to five years. An audit committee of six delegates reported a clean audit of the books to the convention with minor recommendations.

As a result of convention action the "Delphi forum" will be placed back on the website.

Overall, it was a positive week and the delegates worked hard to fund the union.

NATIONAL AFGE CONVENTION

Every three years our National union come's together to elect officers,

decide on funding, and set policy for the next three years. We are pleased to report that 7,700 votes were at the National Convention on behalf of the Council of Prison Locals.

This was the largest number of prison local delegates ever. Many participated in workshops on Legislation, Constitution and Representation shaping the policies of your Union (see your local delegates for the one's that they worked on). After two days of hard work on these issues, they were brought to the floor of the convention for votes.

Many of our delegates and guests worked as Sergeant at Arms helping to run the elections and the convention floor. The hours were long, sometimes going from 6:30 AM to 8:00 PM.

We reelected Bobby L. Harnage as the President of AFGE over Jeffery Williams, 3rd District National Vice President. In the National Secretary Treasurer's race Council 214 President, Jim Davis defeated incumbent Rita Mason for that position. The Fair Practices and Women's Department Director's election was fairly close. Andrea Brooks, former 12th District National Vice President won the race over Marilyn Wiley from the 14th District. Our Council thanks everyone that ran for office and appreciates the hard work put into it.

The hardest issue that came to the floor was of course, per capita, to the National union. We all know that travel costs and many other expenses have increased over the last three years. The convention delegates voted to increase the per capita figure by 1.50 cents a member per month. This equates to 18.00 dollars a year extra to fund the union. So to compare, one carton of cigarettes or one case of beer or two cases of pop is what this increase means to you for the entire year.

In our Council, this means a total increase of 24.00 per year to our members. When you think about it, we just settled the pre and post shift grievance winning between 365.00 dollars per member and 8,040.00 per member. Take 24.00 off of that payout and it just funded your increase for the entire year.

During the work on per capita, the Council of Prison Locals, coordinated with many other Council's, large locals and Districts to find a dues amount that worked for everyone. We hope you agree that it is a nominal amount of money.

Two issues that came to the floor which the Law Enforcement Council's and VA police were against was a declaration to abolish the death penalty and assistance and support for Mumia Jumal (a person who was convicted of killing a Philadelphia, PA police officer).

These two issues, when brought up were handled and voted down by a clear majority of delegates. The Prison Council spoke to these issues and they were quickly dispatched. If we would not have been there, who know's the result.

By working with the other Council's, DOD Locals, Districts and other interests in a coordinated, complimentary way, we were also able to earmark money from the "AFGE Strike fund". This will assist in representation of our members who are sued and/or false allegations are leveled against them. For those of you who don't know, AFGE has about 20 private sector locals and is required to have a strike fund. We were able to make a case to the delegates that some of this money should be used to assist in representation issues. A special thanks must go to former Womens and Fair Practices Director, Kitty Peddicord who gave us the idea.

The Council urges you to speak to people who were at the convention and let them describe to you the working relationships built during the week. Have them explain the floor action and why item's passed or failed. Discuss the candidates for office and find out why some won and why some lost. It is your money that send's us to the Convention, ask for a report at your next locals union meeting.

DEMOCRATIC CONVENTION

As some of you may already know, the American Federation of

Government Employee's (our parent Union), had requested union activist's to run for delegate to the major party conventions.

President Phil Glover, ran for delegate in Pennsylvania and was elected by the 12th Congressional District. In order to run, you had to have petitions submitted in January with at least 350 names from the Congressional District you live it. Your name then goes on a ballot for the primary race. He was number two out of six on the ballot and was selected as a delegate to the convention.

No, and we repeat NO, union dues money was spent on sending the Council President to the Los Angeles Democratic Convention.

According to President Glover, the experience allowed him to network with many Labor leaders, including; Richard Trumka, AFL-CIO National Secretary/Treasurer, Bill George, President, Pennsylvania State AFL-CIO, Rick Bloomingdale, Secretary/Treasurer, Pennsylvania State AFL-CIO and others. The other benefit of this convention and our Council having a delegate there was to meet and express our view points to member's of Congress directly. Many of the State delegations included members of Congress and they would sit on the Convention floor with you, giving you time to discuss issues with them directly (with out staff blocking you).

On another note, thirty one of the delegates to the convention were AFGE delegates, fifteen hundred were labor delegates in all. Of the AFGE members that ran for the Republican Convention zero made it to the convention, even though one made it on the ballot.

Russ Davis, an AFGE delegate from Virginia, worked on the Democratic Platform committee. He was responsible for changing the platform on contracting out issues. This means that Federal Employee's will have even greater opportunities to compete on any contracting out determinations.

All in all, it again was a step in putting our Council at the front of discussions on prison policy.

SPEECH TO THE HUMAN RESOURCE MANAGERS CONFERENCE, PHOENIX ARIZONA, MAY 9TH, 2000

GOOD MORNING, I WANT TO THANK KEITH HALL FOR THE INVITATION TO SPEAK WITH YOU TODAY. I BELIEVE IT IS VERY IMPORTANT THAT THE LINES OF COMMUNICATION BETWEEN LABOR AND MANAGEMENT REMAIN OPEN AND PRODUCTIVE. MANY TIMES, IT IS THE HUMAN RESOURCE MANAGERS THAT SET THE TONE OF LABOR RELATIONS AT EACH INDIVIDUAL FACILITY. I SAY THIS BECAUSE IN MOST INSTANCES THE WARDEN=S, ASSOCIATE WARDEN=S AND DEPARTMENT HEADS COME TO YOU FOR THE ADVISE AND GUIDANCE NECESSARY TO DEAL WITH A PARTICULAR LMR SITUATION. YOUR ADVISE ON THE SUBJECT, GENERALLY SETS IN MOTION A POSITIVE DISPOSITION OF THE MATTER OR A NEGATIVE DISPOSITION. THIS MEANS THAT THE RELATIONSHIPS BUILT BETWEEN THE HUMAN RESOURCE MANAGERS AND THE UNION REPRESENTATIVES IN YOUR INSTITUTIONS IS A CRITICAL FACTOR IN GOOD LABOR RELATIONS. I BELIEVE THAT COOPERATION IS A CORNERSTONE TO A LESS ADVERSARIAL MORE PRODUCTIVE WORK ENVIRONMENT FOR ALL STAFF. NOW, WE ALL KNOW THAT THERE ARE SOME ON MANAGEMENT=S SIDE THAT DON=T NECESSARILY WANT THIS TYPE OF RELATIONSHIP, AND THE DIRECTOR HAS ACKNOWLEDGED THIS. WELL, I WILL ALSO ACKNOWLEDGE THERE ARE SOME ON THE UNION SIDE OF THE EQUATION THAT DON=T BELIEVE IN COOPERATION.

HOWEVER, COOPERATION IS A TWO WAY STREET, MANY TIMES BOTH PARTIES FEEL THEY ARE THE ONES DOING ALL THE COMPROMISING. BECAUSE OF THIS FEELING, WE LOCK UP ON SIMPLE SMALL ISSUES THAT REALLY DON=T MEAN A WHOLE LOT. INSTEAD, WE SHOULD JUST DECIDE TO DO THE CORRECT THINGS. WHICH EVER SIDE SEEMS TO BE GIVING. THIS CERTAINLY HAPPENS AT MANY OF OUR FACILITIES. I COULD LIST SOME PLACES THAT ARE WORKING VERY WELL TOGETHER, BUT IF I MISS SOME IT WOULD CAUSE MORE PROBLEMS. YOU KNOW WHETHER YOU HAVE A GOOD COOPERATIVE RELATIONSHIP OR NOT. I URGE THOSE OF YOU WHO DON=T TO LOOK AROUND AND SEE THAT IT IS THE WAY THE BUREAU OF PRISONS IS MOVING. THE UNION AT THE NATIONAL LEVEL IS BEING CONSULTED MORE NOW THAN EVER. WE HAVE GOOD ACCESS TO THE DIRECTOR, THE ASSISTANT DIRECTORS AND REGIONAL DIRECTORS. ON POLICY ISSUANCES, WE USED TO BE NUMBER 7 OR 8 ON THE LIST FOR RECEIVING POLICY, WE ARE NOW AT NUMBER 3 AND EVENTUALLY MAY BE IN ON THE DRAFT STAGE OF POLICY DEVELOPMENT.

WE ARE FOR THE FIRST TIME IN MY MEMORY HOLDING JOINT LMR TRAINING WITH WARDENS INVOLVED. SO, I SINCERELY BELIEVE THAT COOPERATIVE RELATIONS WILL BE THE NORM, NOT THE EXCEPTION.

I WANT TO TAKE A FEW MINUTES AND SPEAK TO SOME SPECIFIC ISSUES RELATING TO THE HR FIELD:

WEB BASED HUMAN RESOURCE FUNCTIONS

MAY HAVE SOME BENEFITS, BUT, PROBLEMS HAVE BEEN IDENTIFIED IN THE FIELD SINCE THE UNION AGREED TO DO THE PILOTS. SHIFTING RESPONSIBILITY TO THE EMPLOYEE ON THESE FUNCTIONS HAVE RAISED QUESTIONS. WHY HAVE AS AN AVERAGE, 4 OR 5 HR STAFF IN A DEPARTMENT? IF NORMALLY, HR STAFF DID TRANSACTIONS ON DUTY TIME, THEN IF STAFF ARE TO DO THEM, IT SHALL BE ON DUTY TIME AS WELL. HOW DOES THIS WORK FOR STAFF ON MORNINGS, WEEKENDS, HOLIDAYS ETC? PRIVACY CONCERNS AND ACCESS, WHEN ONE COMPUTER IS SET UP IN THE STAFF LOUNGE FOR USE OF STAFF WHO NORMALLY DON=T HAVE COMPUTER ACCESS. HOW WILL PRIVACY AND ACCESS BE ACHIEVED? THESE ARE QUESTIONS THE UNION IS NOW RAISING SINCE THE PILOTS ARE IN FULL SWING. AND BEFORE ANY MORE EXPANSION IS AGREED TO, THESE WILL NEED TO BE ANSWERED.

PERFORMANCE EVALUATIONS HAS BECOME AN OBVIOUS AREA THAT NEEDS REFORM. AS A MEMBER OF THE MANAGEMENT REENGINEERING WORKGROUP, I HAVE SEEN THE RESULTS OF MANAGER=S FROM ALL OVER THE COUNTRY WHO SAY THE SYSTEM IS A MESS. EMPLOYEES ALSO AGREE THAT IN GENERAL THE SYSTEM IS FLAWED. HOWEVER, CORRECTING IT IS DIFFICULT. DO WE GO TO A PASS/FAIL SYSTEM? DO WE MOVE TO THREE LEVELS UNDER THE OLD SYSTEM? HOW ABOUT 360 EVALUATIONS WHERE STAFF WILL PLAY A ROLE IN RATING THEIR SUPERVISORS? WHAT IS CLEAR TO THE UNION, IS ANY SYSTEM WE MOVE TO, MUST INCLUDE PROTECTIONS ON HOW AND WHEN RATINGS ARE GIVEN. THESE ARE NOW OUTLINED IN ARTICLE 14 AND ARE LOCKED INTO THE MASTER AGREEMENT. THE PLAN HANDED TO US LAST YEAR, DOES NOT PROVIDE PROTECTIONS THAT WE NOW HAVE IN THE CONTRACT. A WORKGROUP HAS BEEN FORMED AND I AM SEARCHING FOR A REPRESENTATIVE FROM THE UNION TO WORK ON THIS IMPORTANT ISSUE.

NEGOTIATIONS AND THE TERM IMPACT AND IMPLEMENTATION BARGAINING:

I HAVE BEEN IN SEVERAL TRAINING SESSIONS WITH THE GENERAL COUNSEL FROM THE FLRA JOE SCHWEDERSKI. THE BUREAU OF PRISONS IS STILL BEHIND AND STILL USING THE TERM AIMPACT AND IMPLEMENTATION BARGAINING@. WHAT WE HAVE BEEN TRAINING IN IS PROCEDURE AND APPROPRIATE ARRANGEMENTS BARGAINING UNDER 5 USC 7106 (B)(2) AND (3) OF THE LABOR RELATIONS STATUTE. THIS HAS GENERALLY EXPANDED BARGAINING. YOU HAVE TO LOOK AT ALL SIDES OF AN ISSUE TO DETERMINE IF IT IS TRULY NON-NEGOTIABLE OR THAT YOU HAVE NO DUTY TO BARGAIN. MANY TIMES, YOU MAY CHANGE SOMETHING DEALING WITH INMATES, YET, IT AFFECTS WHAT STAFF DO, THERE STILL MAY BE BARGAINING RIGHTS FOR US. WE ARE INFORMING OUR LOCALS OF THESE THINGS SO I AM JUST MAKING YOU AWARE OF IT. WHAT WE ARE HAVING SOME TROUBLE WITH IS THE PERCEPTION THAT 5 USC 7106 (A) IS ALL THERE IS, WHEN IT HAS BEEN FOUND THAT IT IS SUBJECT TO (B).

A POSITIVE THAT I HAVE SEEN IS THE RECENT TENDENCY AT THE NATIONAL LEVEL TO USE SOME INTEREST BASED BARGAINING TECHNIQUES ON POLICY. I HOPE THAT THIS FILTERS DOWN TO THE FIELD AS WELL. IT GETS US AWAY FROM TIME CONSUMING LITIGATION AND GET=S POLICY OUT TO STAFF THAT WORKS AND HOPEFULLY MAKES SENSE.

I WANT TO CLOSE BY SAYING THAT THE UNION WANTS GOOD RELATIONS IN THE FIELD. WE HAVE WORKED HARD TO GET SOME PLACES TURNED AROUND FROM BOTH SIDES OF THE TABLE AND WILL CONTINUE. I WOULD LIKE TO THANK JOE CHAPIN AND KEITH HALL FOR THEIR WORK ON LABOR RELATIONS AND I HOPE WE CONTINUE TO GO FORWARD. IF THERE ARE ANY QUESTIONS, PLEASE FEEL FREE TO ASK THEM.

COUNCIL OF PRISON LOCALS

UPDATE

December 1999

Well the last couple month=s have been extremely busy as usual. I have some updated information on policy, Labor Relations, and the Council.

We just completed a week of negotiations in Washington DC. Some of the policies discussed were Program Review, Firearms and Badges, SCBA=s, Ombudsman, Transfer of Offenders to or from Foreign Countries and Notification of Release to State and Local Law Enforcement Officials.

Some of the highlights include:

1. SCBA=s- As some of you may know, there is a problem with the OSHA regulations, which govern us, on fit testing of SCBA=s and Respirators. It states no facial hair can come in contact with the sealing part of the face pieces. This conflicts with our Master Agreement. Also, something that the agency hasn=t told us before is that the regulation states, management will have to provide a mask that is Aacceptable@ to the employee. Additionally, we have discussed those personnel that have prescription eye wear. These items are tabled for now. This policy should not be implemented in the field.

2. Program Review- Our proposal included eliminating bargaining unit employees from participating in reviewing other bargaining unit employees. We believe it can be the first stage of discipline. When a review team finds a discrepancy on a bargaining unit employees work, negative log entries can result or worse. This was finally declared non-negotiable at the table, we have requested a written notice of non-negotiability from the agency.

3. Ombudsman- This policy was worked on in the draft stage by the Council E-board. Although some concerns were raised after the fact, we believe that we are covered. The policy refers you to the Master Agreement, its time frames and rights. Also, it is a voluntary program. It is completed and out.

These are just some highlights and as I gather the notes from the other policies I will post them on here or have SCRVP Paul Rissler give an update.

I want to personally thank those of you who did the work on these policy issuances:

Pam Clampit, Bastrop Dennis Biesik, NERVP Paul Rissler, SCRVP

Irene Compton, Tallahassee Steve Croman, USP ALW Ed Roadarmel, LSCI ALW

Mark Sewak, Loretto Jim Turner, Sec/Treas Erica Shields, Englewood

I hope I didn=t miss anyone, but going through my papers for this round these are people who sent us concerns, pointed out possible problems, or actually wrote proposals. Thanks again.

On another matter, as most of you are aware the Federal Services Impasses Panel had some problems with our Master Agreement contract language on review of a Compressed and Flex schedule. The Director has delegated all authority on this issue to the Wardens to determine Adverse Agency impact when negotiating over these schedules. This means that at the local level, if the agency declares adverse agency impact, the local should take it to the FSIP for a decision. The agency will not have a second bite at the Central Office level on review. I hope this is clear.

We have been getting some questions on the Unit Management Manual. I requested that our team of negotiators write up the changes and our intent for distribution to the field. I am in the process of working through that now and will get it out as soon as possible.

As you know, AFGE created a task force to look at the Bureau of Prison=s Labor Relations and assist the Council in identifying and fixing some things. National President Harnage and I met with the Director Hawk Sawyer and discussed some things we could do to repair some of the things happening in the field. We could also identify some things that were working. As a result of those meetings and continuing discussions with the Assistant Director of HRM Keith Hall and Labor Relations Chief Joe Chapin I can announce the following initiatives:
1. We have agreed to hold Joint Labor Relations training. This training will be conducted by FPMI communications with a program agreed to by both Union and Management. Each Region will be trained with four people from each institution. The Warden will be in attendance with whoever he or she picks as their primary LMR person. And the Union should have the President and whoever the local decides as the second person. Dates and locations for the event are being worked on now.
2. We have agreed to go out and look at 12 institutions for LMR practices. These might be good practices or poor practices. The group coming out will include members of the Council Executive Board, members of the National Executive Council of AFGE and a team selected by Central Office management. We will coordinate with the Local Union President on sites selected for this review. We are also in the process of developing standard questions for our visits. We hope to find and finalize a ABest Practices@ list for LMR activities which the Director and I would endorse.
3. We have been working on a way to intervene early into proposed discipline against Union Officials. As of yet, nothing on this has been formalized as it is a difficult subject area for us.
The Union certainly doesn=t want to have a perception out there that if we would review one of these cases that we would agree it had merit. It would not be beneficial to anyone. So we continue to try and find a way to raise awareness of unjust disciplinary actions based on Union Activity.
I will be traveling to the Southeast in December to meet Local leaders in our Florida Locals. After the first of the year, I will be trying to get out to the rest of the Southeast as I promised at the convention.
I hope that everyone had a great holiday on Thanksgiving and wish each of you a Merry Christmas and Happy New Year.....watch out for Y2K. We all pray our website stays up after January 1, 2000 and our e-mails function. (I have faith Jailer222 can keep it going)
President Glover's 1999 warden's Conference Speech
GOOD AFTERNOON, FOR THOSE OF YOU WHO DON'T KNOW ME, I AM PHIL GLOVER, PRESIDENT, COUNCIL OF PRISON LOCALS, AMERICAN FEDERATION OF GOVERNMENT EMPLOYEES. I WOULD LIKE TO THANK THE DIRECTOR FOR INVITING ME TO THIS YEARS WARDEN'S CONFERENCE IN ORDER TO PRESENT THE UNION'S ACTIVITIES, GOALS AND IDEAS FOR THE FUTURE OF THE FEDERAL BUREAU OF PRISONS.
WE HAVE EXPERIENCED SOME CHANGES TO OUR EXECUTIVE BOARD SINCE THE LAST TIME I ADDRESSED YOU, SO I THOUGHT IT WOULD BE BENEFICIAL IF I INFORMED YOU OF OUR NATIONAL ELECTED OFFICERS AND WHERE THEY ARE FROM IN CASE YOU MIGHT WANT OR NEED TO CONTACT THEM.
DENNIS BIESIK, NORTHEAST REGIONAL VICE PRESIDENT, FROM FCI MCKEAN
CHARLIE BOHANNON, OUR NEWEST EXECUTIVE BOARD MEMBER, MID-ATLANTIC REGIONAL VICE PRESIDENT, FROM LSCI BUTNER
MANNY BORQUEZ, WESTERN REGIONAL VICE PRESIDENT, FCI SHERIDAN
ALLEN GREEN, OUR SOUTHEAST REGIONAL VICE PRESIDENT, FCI MARIANNA
LARRY RANEY, NORTHCENTRAL REGIONAL VICE PRESIDENT, USP LEAVENWORTH
PAUL RISSLER, SCRVP, FROM FCI EL RENO
AND OUR SECRETARY/TREASURER, JIM TURNER, FCI SANDSTONE.
AS ELECTED OFFICERS WE ARE RESPONSIBLE FOR THE OPERATION OF THE COUNCIL OF PRISON LOCALS. WE ALSO WORK WITH LOCALS IN THE FIELD ON ISSUES AFFECTING THEM. WE ATTEMPT TO TROUBLE SHOOT PROBLEMS BY WORKING WITH THE REGIONS AND CENTRAL OFFICE. OUR ROLE IS ALSO TO NEGOTIATE POLICY AT THE CENTRAL OFFICE LEVEL. WE COORDINATE AN EXTENSIVE LEGISLATIVE NETWORK BETWEEN THE AMERICAN FEDERATION OF GOVERNMENT EMPLOYEES, THE BUREAU OF PRISONS, OTHER INTEREST GROUPS SUCH AS CORRECTIONS IN CRIMINAL JUSTICE COALITION, CORRECTIONS USA, THE LOCAL UNIONS, THE CONGRESS AND THE ADMINISTRATION.
I WOULD LIKE TO TAKE A COUPLE MINUTES AND DISCUSS THE MASTER AGREEMENT. WHEN THIS AGREEMENT BECAME EFFECTIVE THERE WERE SOME WHO THOUGHT IT WAS GOING TO BE VERY DIFFICULT TO IMPLEMENT. I THINK IN 85 PERCENT OF OUR INSTITUTIONS WE HAVE NOT HAD MAJOR PROBLEMS AND THAT IS A POSITIVE. HOWEVER, I AM STILL RECEIVING CALLS ABOUT CHANGING OF POLICY AND PROCEDURE WITHOUT BARGAINING. I BELIEVE BY WORKING TOGETHER ON THESE THINGS, CHANGES THAT MANAGEMENT WANTS OR NEEDS CAN BE IMPLEMENTED WITHOUT NEEDLESS LITIGATION AND COST. I THINK WE CAN ALL AGREE IT IS MORE COST EFFECTIVE TO TALK TO US FIRST, THAN TO PUSH IMPLEMENTATION OF SOMETHING AND THEN THROUGH LITIGATION HAVING TO GO BACK AND START FROM SCRATCH. I ASK THAT YOU CONSULT WITH YOUR UNION LOCALS WHEN THE IDEA IS FORMULATING, ELIMINATING PIT FALLS, THAT LATER MAY CAUSE THE IMPLEMENTATION TO FAIL. THERE ARE THOSE OF YOU IN THIS ROOM THAT CONSULT WITH YOUR LOCAL'S NOW, AND THERE ARE THOSE OF YOU THAT DON'T. FOR THOSE THAT DON'T I WOULD ASK YOU TO AT THE LEAST FOLLOW THE CONTRACT, SEND YOUR PROPOSED CHANGES TO THE LOCAL UNION, GIVE THEM THE APPROPRIATE TIME TO DECIDE TO NEGOTIATE AND NEGOTIATE IF REQUESTED BY THE UNION.
SO KNOW ONE THINKS THIS IS UNHEARD OF, I RECEIVE ALL POLICY ISSUANCES AT THE COMMENT STAGE. IF I SEE SOMETHING THAT I KNOW MIGHT BE A PROBLEM, I COMMENT ON IT. I THEN RECEIVE THE CLEARANCE DRAFT AFTER THE DIRECTOR AGREES TO SIGN THE POLICY. I THEN HAVE THIRTY DAYS TO DETERMINE IF NEGOTIATIONS ARE NECESSARY OR NOT. I HAVE WORKED WITH CENTRAL OFFICE ON MANY POLICIES BY WAIVING THE THIRTY DAYS AND AGREEING TO IMPLEMENTATION IF I SEE NO CLEAR PROBLEMS WITH AFFECTS ON WORKING CONDITIONS. I HAVE ALSO RECEIVED CALLS FROM BRANCH CHIEFS OR ASSISTANT DIRECTORS AND WORKED OUT POTENTIAL PROBLEMS WITH THEM PRIOR TO ISSUANCE.
WE HAVE BEEN UNDER THIS AGREEMENT FOR 15 MONTHS. AT THE 18 MONTH THERE IS A RE-OPENER CLAUSE ON TWO ARTICLES. AT THE JULY LMR MEETING WE SHOULD BE ABLE TO MAKE OUR DECISION ON WHETHER TO OPEN ANYTHING OR NOT.
ONE ITEM THAT SEEMS TO BE A HOT TOPIC RIGHT NOW IS FLEX AND COMPRESSED SCHEDULES. I OBSERVED THIS AT TWO OF THE REGIONAL CAUCUS' WITH QUESTIONS AND ANSWER SESSIONS WITH EITHER A REGIONAL DIRECTOR OR THEIR DESIGNEES. THE UNION IS OF COURSE SUPPORTIVE OF THESE SCHEDULES WHEN THEY MAKE SENSE. MANY OF OUR FUNCTIONS IN THE PRISON CAN BE ACCOMPLISHED ON THESE MODIFIED SCHEDULES AND SO WE WILL BE WORKING WITH LOCALS TO IMPLEMENT THEM WHERE POSSIBLE. IN THIS DAY AND AGE OF SINGLE PARENTS, BOTH PARENTS WORKING, AND PARENTS WORKING TWO JOBS TO KEEP PACE, WE MUST BE MORE OPEN TO SOME SCHEDULING FLEXIBILITY. ALSO, OUR BARGAINING UNIT EMPLOYEES READ "JUSTICE FOR ALL" THE NEWSLETTER IN THEIR PAYCHECKS AND JUST CAN'T UNDERSTAND THE RESISTANCE TO SOME OF THESE WORKER FRIENDLY IDEAS IN THE BUREAU THAT THE ATTORNEY GENERAL IS PUBLICLY PROMOTING.
THE NEXT SUBJECT I WOULD LIKE TO TOUCH ON IS LEGISLATION AND THE UNION'S ROLE IN IT. WE HAVE BEEN VERY ACTIVE THE LAST TWO TO THREE YEARS AS A UNION, NOT JUST ONE PERSON, BUT THE LOCALS WITH THE COUNCIL. THIS HAS INCREASED OUR INFLUENCE WITHIN BOTH PARTIES TO SOME DEGREE. WE HAVE BEEN EFFECTIVE ON BILLS SUCH AS HR 2070 (BODILY FLUIDS), PAY INCREASES, STOPPING A 2.5 PERCENT RAISE TO OUR INSURANCE, PRIVATIZATION INITIATIVES AND STOPPING CHANGES TO MANDATORY SOURCE. WE HAVE WORKED WITH THE BUREAU OF PRISONS ON MANY OF THESE ISSUES, THE LAST ONE AND ONE VERY IMPORTANT TO ALL OF US, MANDATORY SOURCE FOR FEDERAL PRISON INDUSTRIES. I THINK IS A GREAT EXAMPLE OF HOW THE UNION AND MANAGEMENT COULD WORK TOGETHER IN ALL AREAS.
I WAS CALLED AND NOTIFIED BY STEVE SCHWALB THAT SENATOR LEVIN WOULD BE TRYING TO AMEND THE DEFENSE AUTHORIZATION BILL TO ELIMINATE MANDATORY SOURCE. I CONTACTED AFGE AND HAD THEM MONITOR THE BILL FOR THIS PROVISION. THE UNION THEN CONTACTED KEY LOCALS TO CONTACT SENATORS THAT SAT ON THE COMMITTEE OF JURISDICTION. I WAS THEN INVITED TO TESTIFY WITH THE DIRECTOR AND CHAIRMAN ARAGON TO THE SUBCOMMITTEE ON OVERSIGHT, JUDICIARY COMMITTEE IN THE SENATE. WHEN A VOTE ON AN AMENDMENT BY SENATOR GRAMM OF TX TO ELIMINATE THE LEVIN AMENDMENT FAILED BY ONE VOTE, THE BUREAU EDUCATED CERTAIN SENATORS AND WE LOBBIED AT THE SAME TIME. SENATOR TORICELLI, I BELIEVE WAS THE DECIDING VOTE TO DROP THE PROVISION ON MANDATORY SOURCE. BOTH OF OUR LOCALS FROM NEW JERSEY WERE ON THE PHONES TO THE SENATORS OFFICE IN ORDER TO PRESENT OUR CONCERNS REGARDING THIS LEGISLATION. IT WORKED. BETWEEN THE BUREAU'S EDUCATION AND OUR LOBBYING WE WERE SUCCESSFUL.
I THINK THIS IS A MODEL OF HOW WE CAN WORK TOGETHER AT ALL LEVEL'S. I AM NOT SAYING WE WILL ALWAYS AGREE ON EVERYTHING BUT THIS PROBABLY IS ONE OF THE BEST EXAMPLES OF COORDINATION AND WORKING TOGETHER ON AN ISSUE IN A LONG TIME.
PRIVATIZATION IS OF GREAT CONCERN TO THE BARGAINING UNIT. WHEN YOU SEE OUR GENERAL'S IN THE ARMED SERVICES CONTRACT FOR A PROGRAM OR WEAPON SYSTEM THEN THE NEXT WEEK RETIRE AND GO TO WORK FOR THE COMPANY PRODUCING IT OR SUPPLYING IT, WE ALL HAVE LOOKED AT THAT AS WRONG. WELL, OUR BARGAINING UNIT EMPLOYEES BELIEVE THIS IS WHAT IS BEGINNING TO HAPPEN IN THE BUREAU OF PRISONS. I WON'T SAY MUCH ON THIS TOPIC EXCEPT TO SAY THAT CAREER BUREAU PEOPLE WHO CREATED THE CURRENT SYSTEM AND NOW GO AROUND TO THE PUBLIC AND SAY A PRIVATE COMPANY CAN DO IT BETTER AND CHEAPER ARE SIMPLY WRONG AS FAR AS WE ARE CONCERNED. WE HAVE WORKED WITH A BI-PARTISAN GROUP OF CONGRESSMAN TO HAVE HR. 979 INTRODUCED IN THE HOUSE OF REPRESENTATIVES. IT ELIMINATES FEDERAL MONEY BEING SPENT ON PRIVATIZATION IN THE FEDERAL, STATE AND LOCAL LEVELS. IT DOES STATE THAT HALF-WAY HOUSES WOULD CONTINUE TO BE CONTRACTOR OPERATED. ADDITIONALLY, I HAVE SPOKEN TO TOM KANE, RON THOMPSON AND THE DIRECTOR ABOUT FLEXIBILITY WITH ILLEGAL ALIENS SUCH AS OUR SOUTH WEST BORDER SITUATION. WE BELIEVE THIS BILL AT THE LEAST WILL OPEN UP DEBATE ON PRIVATIZING PRISONS AND GIVE THE CONGRESS AND PUBLIC AN OPPORTUNITY TO SEE THE REAL DIFFERENCES IN OUR SYSTEMS.
HR 215, A BILL TO ELIMINATE THE CONTRACTING OUT OF THE DC INMATES IS ALSO A BILL WE ARE WORKING ON AND AGREE WITH.
WE HAVE RECEIVED A COMMITMENT THROUGH SENATOR GORDON SMITH'S (R-OR) OFFICE TO INTRODUCE A BILL TO CHANGE THE VESTING REQUIREMENT FOR OUR EMPLOYEES FROM 18 MONTHS UNDER FERS TO IMMEDIATELY UPON HIRING. THIS WOULD PROVIDE AT LEAST SOME CIVIL SERVICE BENEFIT SHOULD ONE OF OUR EMPLOYEES LOSE THEIR LIFE IN THE LINE OF DUTY. IT MIGHT NOT BE MUCH, BUT IT MIGHT ASSIST A FAMILY DEALING WITH THE LOSS OF A SPOUSE. ONCE THIS IS INTRODUCED WE HOPE TO HAVE THE BUREAUS ASSISTANCE IN EDUCATING OTHER MEMBERS OF CONGRESS ON HOW IMPORTANT THIS COULD BE.
I NOW WANT TO DISCUSS SOMETHING THAT IS PROBABLY A LITTLE SENSITIVE. IT IS UNION OFFICIALS AND THEIR ROLE AT THE LOCAL LEVEL. BY LAW, WE ARE REQUIRED TO RESPONSIBLY REPRESENT THE BARGAINING UNIT TO THE BEST OF OUR ABILITY. WE ALSO, BY LAW ARE CONSIDERED EQUAL WHEN DEALING WITH LABOR MANAGEMENT ISSUES. THIS PUTS US IN A SITUATION WHERE WE MUST BRING FORWARD THE CONCERNS AND GRIEVANCES OF THE BARGAINING UNIT. WE MUST ALSO PROTECT THE MASTER AGREEMENT AND SUPPLEMENTAL AGREEMENTS. MANY TIMES THIS UPSETS CERTAIN MANAGEMENT OFFICIALS WHO SUGGEST WE SHOULD JUST " COME IN AND DO OUR JOBS" OR "YOU ARE AN EMPLOYEE FIRST" OR "YOUR FIRST RESPONSIBILITY IS TO WHATEVER DEPARTMENT YOUR FROM". WE ARE ELECTED TO REPRESENT AND ARE GIVEN RIGHTS BY TITLE 5. I ASK THAT YOU UNDERSTAND THE POSITION UNION OFFICIALS ARE IN AND WORK WITH THEM. THERE IS A GREAT DEAL OF CASE LAW OUT THERE ON EVALUATIONS OF UNION OFFICIALS, TREATMENT OF UNION OFFICIALS AND OUR RIGHTS AND RESPONSIBILITY'S. I KNOW AND REALIZE THAT MANY OF YOU UNDERSTAND THESE THINGS, BUT MAYBE YOUR YOUNGER, LESS EXPERIENCED SUBORDINATES DO NOT. I HAVE BEGUN TO FIND OUR PROBLEMS WITH UNION OFFICIALS IN SOME LOCATIONS WITH MANAGEMENT MAY BE AT A LOWER LEVEL, WHETHER BECAUSE OF STRAINS IN FILLING POSITIONS, MORE INMATES, MORE WORK OR TOUGHER REQUIREMENTS. EVALUATIONS SOMETIMES ARE LOWERED BECAUSE THE UNION OFFICIAL IS "GONE" OR COMMENTS ARE MADE TO OTHER STAFF ABOUT HAVING TO PICK UP THE UNION OFFICIAL'S "LOAD". WHEN THESE THINGS ARE BROUGHT TO YOUR ATTENTION I UNDERSTAND IN MANY CASES THE FIRST INSTINCT IS TO "SUPPORT YOUR MANAGER". IT IS MY FIRST REACTION TO SUPPORT THE UNION OFFICIAL. BUT TO CHANGE THE CULTURE OF THE ORGANIZATION WE ALL WILL HAVE TO LOOK AT THE ISSUE, AND JUST RESOLVE IT. WE MUST TRY TO STOP GETTING OUR POUND OF FLESH AND AGREE TO FIX THE ISSUE OR PROBLEM AND MOVE ON. THERE IS ENOUGH EXTERNAL FIGHTS GOING ON WITH INMATES, COURTS, CONGRESS, AND OUR OWN ADMINISTRATION THAT WE SHOULD NOT BE FIGHTING INTERNALLY IF IT ISN'T NECESSARY. WE NEED TO LOOK AT THE ISSUE AND LOOK TO TITLE 5, THE MASTER AGREEMENT AND CASE LAW TO SEE IF IT WAS DONE CORRECTLY OR NOT. WE HAVE INTERVENED IN SOME CASES AND I WOULD PREFER TO SPEND COUNCIL TIME ON WORKING TOGETHER ON ISSUES NOT ON DEFENDING PEOPLE.
I BELIEVE UNION REPRESENTATIVES AND MANAGEMENT SHOULD BOTH BE TREATED WITH RESPECT. HOWEVER, IF UNION OFFICIALS DON'T FEEL LIKE THEY ARE TREATED WITH RESPECT, THEY WILL NOT TREAT YOU WITH THE RESPECT I AM SURE YOU WANT AND DESERVE.
IN CLOSING, I WOULD LIKE TO SAY I BELIEVE THE COUNCIL'S WORKING RELATIONSHIP WITH EXECUTIVE STAFF IS GETTING BETTER. WE ARE CONTACTING EACH OTHER ON ISSUES AS THEY OCCUR INSTEAD OF WAITING UNTIL THEY BUILD UP OR CREATE MISUNDERSTANDINGS. MANY OF OUR PROBLEMS HAPPEN BECAUSE OF A FAILURE TO COMMUNICATE EFFECTIVELY AND THAT CAN BE A TWO WAY STREET. WE HAVE STARTED TO CHANGE THAT. FOR EXAMPLE, WHEN THE TITIAN ISLAND DEPLOYMENT WAS ORDERED BY JUSTICE, RON THOMPSON CONTACTED ME. I HAD SOME QUESTIONS WHICH WERE PROMPTLY ANSWERED AND IT WENT OFF WITHOUT ANY PROBLEMS. FPI LEGISLATION WHICH I COVERED EARLIER IS ALSO AN EXAMPLE OF THIS.
AS AN ORGANIZATION WE WANT TO WORK WITH YOU AND BE INCLUDED IN THE FUTURE OF THIS AGENCY. WE SOMETIMES CAN SEE AT THE GROUND LEVEL HOW THINGS CAN WORK DIFFERENTLY, OR HAVE A DIFFERENT PERSPECTIVE ON IDEAS OR CHANGES. USE US, I THINK YOU WILL FIND WE WANT WHAT'S BEST FOR THE BUREAU OF PRISONS AND THE BARGAINING UNIT WE REPRESENT. THANK YOU FOR YOUR TIME AND ATTENTION, AND I WOULD BE HAPPY TO ANSWER ANY QUESTIONS YOU MIGHT HAVE.